Maki-E
FINEST JAPANESE CRAFTSMANSHIP
Each of these valuable fountain pens is a piece of art, masterfully crafted by use of the Maki-e technique. All Pelikan Maki-e fountain pens are handmade, unique pieces created to last. The number of pens is strictly limited.
Maki-e is a traditional Japanese craft passed down from generation to generation. When translated, the name of the technique means "sprinkled picture", a meaning derived from the fine gold and silver dust and, occasionally, also the dust of shaved precious stones sprinkled across the fountain pen. By using specially prepared Urushi lacquer acquired from the sap of the East Asian lacquer tree and finely ground precious metals, intricate motifs are created in an extremely laborious, time-consuming process. The coveted Maki-e unique collection is pure luxury.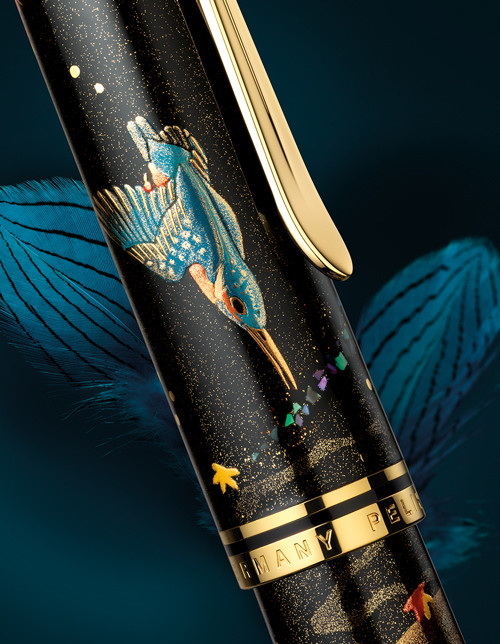 The dragon is an essential creature in Chinese mythology. The dragon is a powerful symbol and considered to be the source of all the power and is often used as a symbol of Chinese emperors.
See more
Maki-e is a tradition-steeped, artistic craftsmanship in Japan, in which delicate patterns are sprinkled onto objects of all kinds. Mastering this intricate art form requires many years of intensive training as well as a high degree of skill. Using specially prepared Urushi lacquer - which is won from the sap of the Japanese lacquer tree - and different precious metal powders, filigree motifs are created in a very time-consuming process. The mastery of the artistic craftsmanship of Maki-e and its numerous techniques requires many years of intensive training.
Each Pelikan Maki-e fountain pen is a hand-made, unique piece of art - built for eternity. The material properties of the applied lacquers are unique. Despite its solid consistency, the hardened lacquer maintains a lot of its elasticity, which makes it durably resistant to cracking. This way, a Pelikan Maki-e fountain pen preserves the richness of its details, even after many years.
the art of
Creating a Maki-e Fountain Pen
The art of creating a Maki-e fountain pen. This short film shows how the popular leading Maki-e artist Mushu Yamazaki in Japan, elaborately forms a Pelikan fountain pen into a piece of Maki-e art, by hand.