Accessories
Accessories that make the difference! However, you want to store or refill your fine writing instruments: we have the best ink glasses, cartridges and leather cases, available in many colours.
All of our accessories exist in beautiful harmony with each other.
Once bitten by the collector's spirit, it is very difficult to stop – and that is something any collector will confirm. However, there sometime comes a point where a solution must be found to store all the acquired treasures. For this reason, we have created a collector's chest that satisfies every need while being stunning to look at and convenient to use.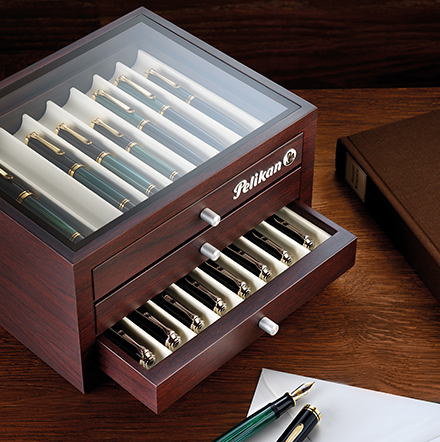 The collector's chest provides space for 24 writing instruments, with even the large Souverän M 1000 fitting inside perfectly. The frame is made of durable MDF finished with a high-quality wooden veneer and a protective, transparent varnish. To avoid scratching the writing instruments stored inside, the pen holder inserts are covered in artificial leather in a cream color.
There is a transparent panel made of safety glass with 4 mm thickness that allows for an admiring gaze at the collection at any time. The plastic feet ensure that the chest can also be placed on more sensitive surfaces. The Pelikan logo can be found on the front as well as on the back.
The elegant way to store your favorite pens, clearly arranged with no need for much space.
Dimensions: 25.0 × 21,2 × 13,5 cm